Companies with a structured and sophisticated logistics strategy that includes EDI logistics software can do all kinds of incredible things – improve operational efficiency, increase visibility into their supply chain, and most of all, strengthen customer relationships throughout their ecosystem. To achieve these incredible things, however, you need to first have the proper EDI solution in place! In all branches, including the Logistics industry, Electronic Data Interchange (EDI) remains the standard for exchanging electronic messages between businesses.
How Does EDI Work in the Logistic Industry?
Logistics organizations rely on EDI data to simply get things done. Whether that is onboarding a new trading partner, communicating with a customer, or receiving an EDI load tender, the bottom line is logistics companies have needed an efficient EDI logistics software strategy for decades and will continue to for years to come. But with multi-enterprise supply chain becoming more and more important, how can you keep connecting and integrating EDI Transport Data? The right (modern) EDI solution will extend your data flows in order to integrate with your core application and also help you to expand your online presence! Seamless eCommerce and Marketplace Integration is no longer on the wishlist but easily achievable.
Scaling quickly is what every logistics company across the globe wants to be able to do. Modernized EDI systems give organizations the control that they require to conduct business with customers and trading partners. Those critical data exchanges between businesses must be standardized, automated, integrated sufficiently, and simplified. Without those four key ingredients, logistics companies are going to struggle.
Lifeblood of the Logistics Industry
EDI has been used in the Logistics Industry for a long time, making it essential for your organization. It's been the lifeblood of the Logistics Industry due to the fact that all critical data is moved safely and securely through the communication standard that is EDI, be it EDI standard or various EDI messages. As much as any other industry, if not more, logistics companies must be able to scale – and scale quickly. Companies need to handle the sending and receiving of electronic documents, such as X12, EDIFACT, Tradacoms, ODETTE, EANCOM, HIPAA, VDA, and much more. Throughout the logistics industry, becoming EDI capable means not just being able to accommodate and leverage all of these communication standards, but to do so efficiently and fast.
EDI's primary goal is designed to make the workflow of a logistics company smooth and easier through the standardization, automation, integration, and simplification of those critical data exchanges. To make that goal possible it requires the right solution, and the right solution begins with modernizing your EDI!
Modern EDI Logistics Software Aids Compliance
The logistics industry operates on communication. A huge number of standard EDI transactions are sent daily, from Trailer Usage reports to Arrival forms and Customs Declarations for countries around the world. Businesses must make sure their transactions are compliant given the important information they are transmitting. When multi-level enterprises are handling hundreds to thousands of electronic data transactions with outdated technology, the probability of making mistakes increases greatly. These mistakes cost money and Logistics companies that aren't EDI-compliant are going to soon realize how quickly fines can add up. Going one step further, besides costing your company money, non-compliance impacts the trust companies have built with trading partners, jeopardizing those relationships and lowering the competitive threshold.
A modernized EDI interface means companies can stop worrying about missing their SLAs, eliminate the potential for inaccurate EDI, and ensure a fluid data process throughout a data lifecycle. Modern EDI tools can rapidly identify and address errors, pinpoint EDI compliance violations, and rapidly resolve any issues. Logistics companies can put an end to dropped, late, and inaccurate orders, and streamline end-to-end data transformation, orchestration, and integration with secure EDI.
So why is Modern EDI Logistics Software Critical for your Business Success?
The correct modern EDI Solution eliminates the frustration that comes from onboarding new trading partners. It will speed up the EDI mapping processes, removes custom-code and one-off integrations. By automating the complete EDI logistics software process for automation of EDI document types to ERP/TMS/WMS and other backend systems of record, this solution delivers more timely information and greater clarity for rapid decision-making.
The right integration platform can seamlessly orchestrate your data to ensure you have complete visibility and can easily maintain compliance.
One of the solutions ECS can offer you is Cleo Integration Cloud. CIC bridges the gap from a traditional EDI model to one with full connectivity, visibility, and support.
Here's how a modern logistics data flow might look like with the Cleo Integration Cloud Platform to orchestrate the entire cycle: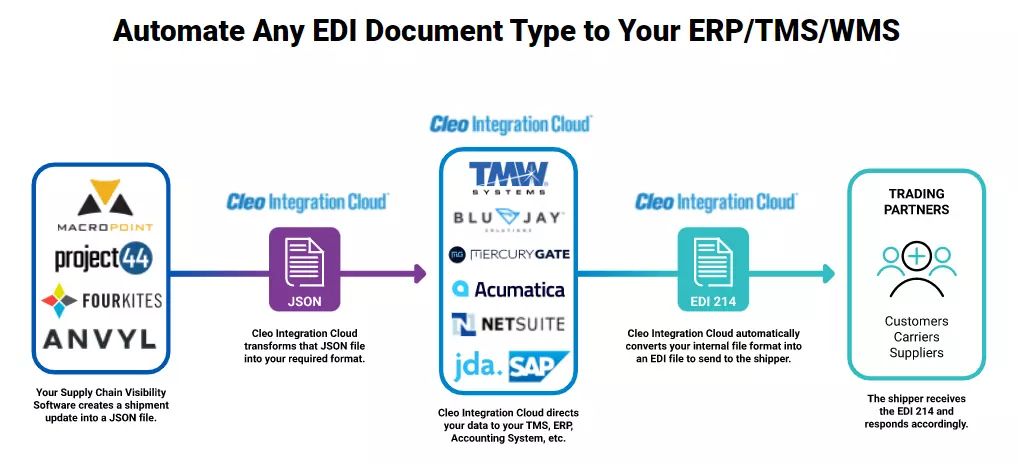 Cleo Integration Cloud elevates a logistics company's EDI visibility over business processes and streamlines its B2B communications. Cleo Integration Cloud helps automate EDI processes in order to connect, transform, and route EDI and non-EDI transactions through its ecosystem without piling on the custom code.
Conclusion
Does upgrading your EDI Logistics Software sound like the next step to ensure your business success? If you're facing non-compliance fines, missed orders or mishandled information, there is a solution. With a modernized EDI platform and some smart integration, logistics companies can keep things moving as they should be. With guidance from an expert at ECS, we can help ensure your compliance, and your success, when it comes to electronic transactions. Get in touch with us today to find out how.